Copper Ridge Occasional Table Set
Product Description
FREE SHIPPING!!
This hand crafted hammered copper round table top set will look great in your living room, from our Mexican copper furniture collection. This 3 piece living room matching table set includes, rustic half moon console table, round coffee table and round end table. Features include all tops are hand hammered and copper is fired just like the old world tradition giving its many variations and makes each copper panel a work of art. No two copper tops are alike, but the entire collection blends together, so expect variations on all 3 copper table tops. All tables have matching decorative metal legs and wood cross base, completing the unique old world look. All pieces can be sold individually, call us for details.
Color: Brown Metal Base & Honey Wood Cross Base
Dimensions:
Round Coffee or Cocktail Table: 40"L x 20"H x 40"D: Reg. Price $1029.99
Half Moon Console Table: 40"L x 31"H x 18"D: Reg. Price $939.99
Round End Table: 24"L x 24"H x 24"D Reg. Price $709.99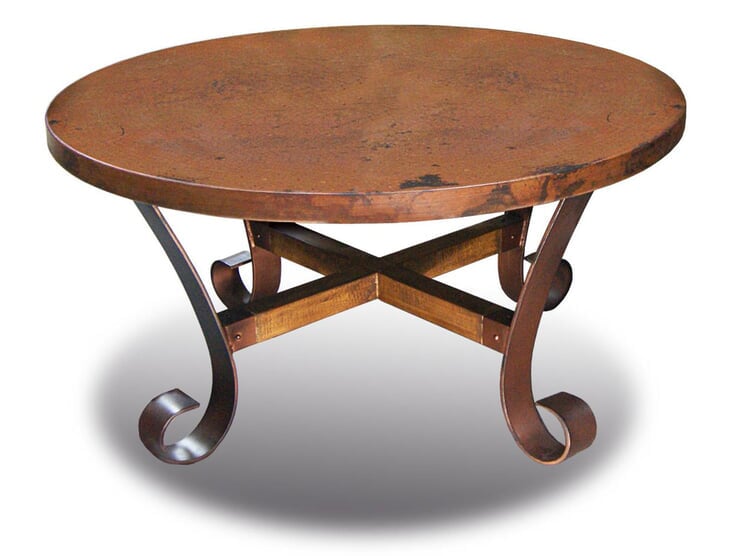 Ridge Round Copper Coffee Table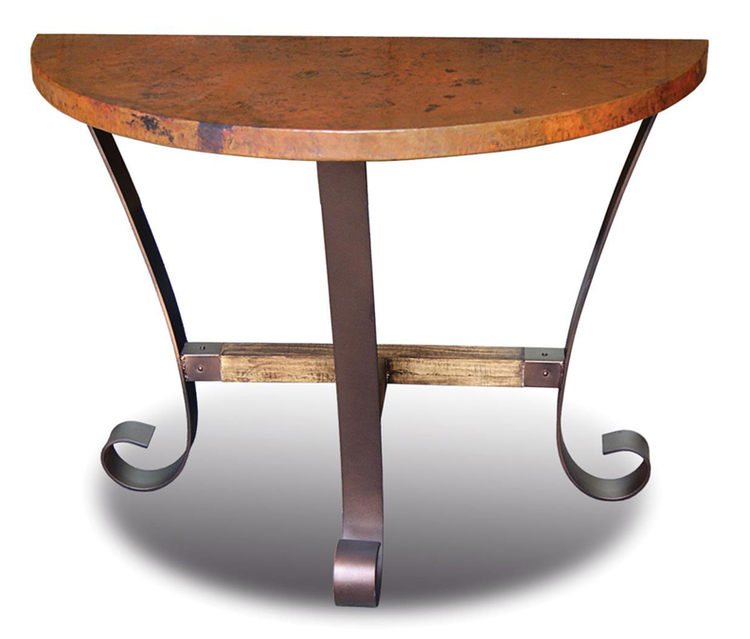 Ridge Half Moon Copper Console Table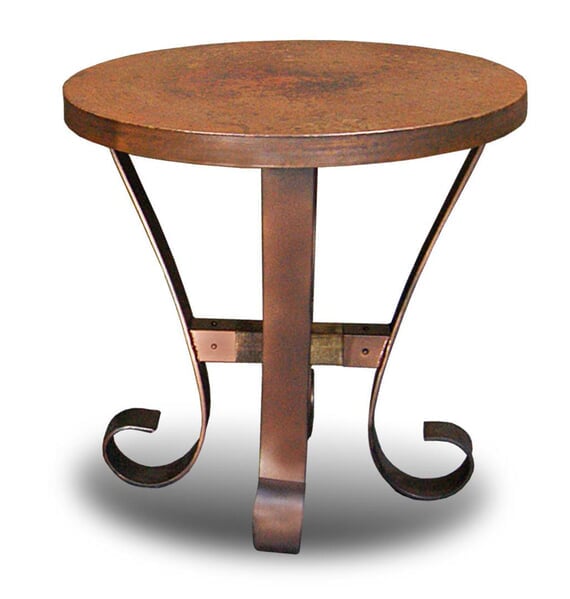 Ridge Round Copper Side Table
FREE SHIPPING!!
For an additional fee, you can purchase
"White Glove In-Home Delivery Service",
call us for details and cost.



"Your Rustic Hammered Copper Coffee Table Furniture Store"

Place your order using our Yahoo secured server online or call us toll free at
1-877-671-0157.


You can shop by us with confidence, since we have received the recognition of excellence
. The Top Service Star next to a store's name is a sign of superlative quality. Yahoo! Shopping uses this symbol to indicate that a store participates in Yahoo's! Customer Rating Program, and that customers who have ordered from that store have given it the highest ratings. Nearly all Yahoo! stores have good customer satisfaction ratings, but those with a star are the best of the best, with at least 95% positive ratings.

sancarlosimports.com has earned this rating because greater than 95% of our customers have rated sancarlosimports.com as having excellent service!




Place your order online using our Secure Server or call
toll free 1-877-671-0157, Monday thru Friday 9:00am-5:00pm CT.

Our offices will be closed on Monday Sept. 3rd, for Labor Day.



We honor the following credit cards!!!



What do our customers say about us? Checkout our customer feedback page, "TESTIMONIALS PAGE".


"Thank you so much for the perfect service we have had with your company. I ordered on line and had no problems at all. We received the shipment perfectly on time and it was in great shape. We appreciate you and your company. We do not have very many places to find rustic mexican furniture in Memphis. Thanks so much." Elizabeth & Mark, Tn.






Do you have questions about San Carlos Mexican Imports, checkout
"Frequently Asked Questions" OR.... Send San Carlos Mexican Imports your comments to:sancarlosimports.com

Free shipping in the continental U.S. when you purchase any item at the same time and shipped to the same location.




"Your Rustic Hammered Copper Coffee Table Furniture Store"
San Carlos Mexican Imports, LLC
2756 S.E. Loop 820
Fort Worth, TX. 76140
1-877-671-0157
customerservice@sancarlosimports.com

All orders in the Dallas or Fort Worth area are eligible for extra discount,
call us for details.